Donghai∙Guofengshangyuan

473views
2. Donghai∙Guofengshangyuan is the new product of top national style of Donghai Group and the upgraded work of Yihaoyuan in Dezhou. Its core idea is to "inherit culture and reshape classics". It has broken the limitations of time and space and geography. It is the product by extracting and recreating the classics in the flourishing age and cultural connotation.
The new Chinese architecture that combines ancient Chinese architecture and modern art aesthetics inherits 5000 years of Chinese culture and reproduces the glory of Chinese architecture. It is not only a product evolution, an innovation of architectural construction concepts, but also a Qilu spirit, a reflection of the people's confidence in the rise of a great power! The project has a superior location, well-planned, forest and water garden residences, and is proud to live in Dezhou as a "top of a city, a courtyard of a country"!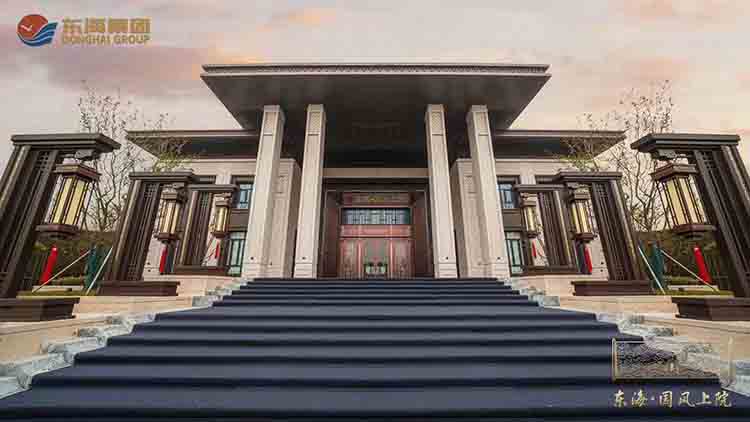 Donghai·Guofeng Shangyuan studied the context of life in Texas and described the culture of the Great River in Texas with scenery. Reproduce the ten sceneries of Dezhou in the Ming Dynasty and eight sceneries of Yunhe prefecture and counties in Shandong to build the Oriental Palace Park. Forest, water, garden, dwelling, watching the thousand-year-old river, one ring, one core and thirteen sceneries, freehand the contemporary national style and thirteen sceneries, giving dwellers a diverse life experience.
Donghai Group adheres to the original intention of building classic buildings in the country, and continues the core of Chinese traditional culture with the magnificent national style, and raises the construction level of Chinese-style buildings to a new level. Guofeng Shangyuan has been upgraded in all aspects from the aspects of architectural construction and space construction, carefully crafted and selected excellent materials. Sculpted with copper ornaments, Chinese patterns and carefully selected landscapes are crafted with masonry heart, forming an oriental reclusive mood full of life texture, describing the exquisite and elegant spiritual life exclusive to Texas.